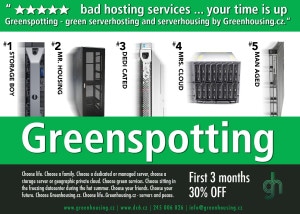 Unhappy with the hosting services? ..Your time is up. Get ready for Greenspotting - green server hosting and server housing by Greenhousing.cz. Dive in and get your Greenspotting discounts to build your online projects on powerful hardware or on your own servers in our Data Centre.
Verze v českém jazyce je zde. Version in CZ language here.
Join us for even higher service performance. Choose Greenspotting and save 30% the price for the period of three months! Choose from 3, 6 or 12 months billing cycles and save extra – up to additional 5% -15 % of the total price! The longer billing cycle you choose, the bigger discount you get. Act quickly as the discount is valid untill April 30th! Hard to choose? Use the discount for all our services which are now available for both new and current customers.
Choose life. Choose a family. Choose a dedicated or managed server, choose a storage server or geographic private cloud. Choose green housing services. Choose sitting in the freezing datacenter during the hot summer. Choose your friends. Choose your future. Choose Greenhousing.cz. Choose life..
Greenspotting radio spot - Choose life - A

http://blog.greenhousing.cz/wp-content/uploads/2017/04/Greenspotting_Radio_A.mp3

Greenspotting radio spot - Choose life - B

http://blog.greenhousing.cz/wp-content/uploads/2017/04/Greenspotting_Radio_B.mp3
Greenspotting by Greenhousing.cz
Those who are "greenspotters" make an effort to "spot" all certain types of our green services. Greendata has been committed to reducing energy consumption in own datacenters since 2010, notably by designing an exclusive Free-cooling and heating system. As a hosting provider, Greendata never ceases to invent new ways of reducing the quantity of electricity needed to run its Data Centers. This keeps the cost of powering the servers down and the savings can be passed on to the customers.
Data Centers - heating and cooling In-house development of exclusive Free-cooling and heating recovery unit systems.
Heating
The Greendata heating system is a heating supply system for Greendata's offices that uses waste heat from all servers. The process saves energy and substantially reduces CO2 emissions and pollutants.
Free cooling
The Greendata free cooling, which is our own green air cooling system when air is brought into the data center directly through the filters. The air temperature was the main control parameter to consider and it was set to 22 - 24°C. The rest of system is automatically managed by the air condition cooling system. PUE PUE (Power Usage Effectiveness) is the index used to measure datacenter energy efficiency. Thanks to efforts to reduce energy consumption and especially electricity, Greendata has been able to achieve a PUE of between 1.3 and 1.4. A better result than the average datacenter.
Recyclation
Waste Prevention at the Office Become a "zero waste" business by practising waste prevention, reusing products, making environmentally conscious purchases, and recycling solid waste and organics. This not only helps our business to meet local, state, and federal environmental mandates, but also to cut costs, increase profits, and help the environment by reducing greenhouse gas emissions.
red